It is the nightmare scenario for a group insurer. The new spouse of a senior executive at your biggest group customer lodges a claim on the company group dental plan. But the claim gets denied, because the information about the spouse isn't up to date.
The head of HR gets an earful from the embarrassed executive. She calls the broker. The broker calls you in a panic. You try to manage the situation, but the damage is done. All of a sudden, what you thought was a safe account is being re-tendered.
At Sentro, we know that one of the most challenging things facing group insurers is making sure that plan member family information is up to date. That's why we are excited to launch new features that make managing spouse and dependent information easier than ever.
Sentro helps you get it right - first time
Knowing that a plan member has a new spouse or dependent is only part of the story. Making sure that the family members are eligible for plan benefits is also key to great service.
Sentro makes it easier for you to get this right - the first time. We check product eligibility (age limits etc) for dependents as well as the primary insured. We can store, manage, bill, and assign/check eligibility of products to member, their spouse, and their dependents. For the insurer - this means much less back and forth with the plan member to clarify information. The plan member's family can be on cover and confident much more quickly.
Our philosophy - empower the insurer to let the person most likely to know the information actually supply it.
Plan members can maintain their own dependent information with Sentro Engage
If they choose to do so, insurers can now allow plan members to maintain their own dependent information, right from their own secure Sentro Engage profile. Insurers can fully configure which information is visible and what is available for editing.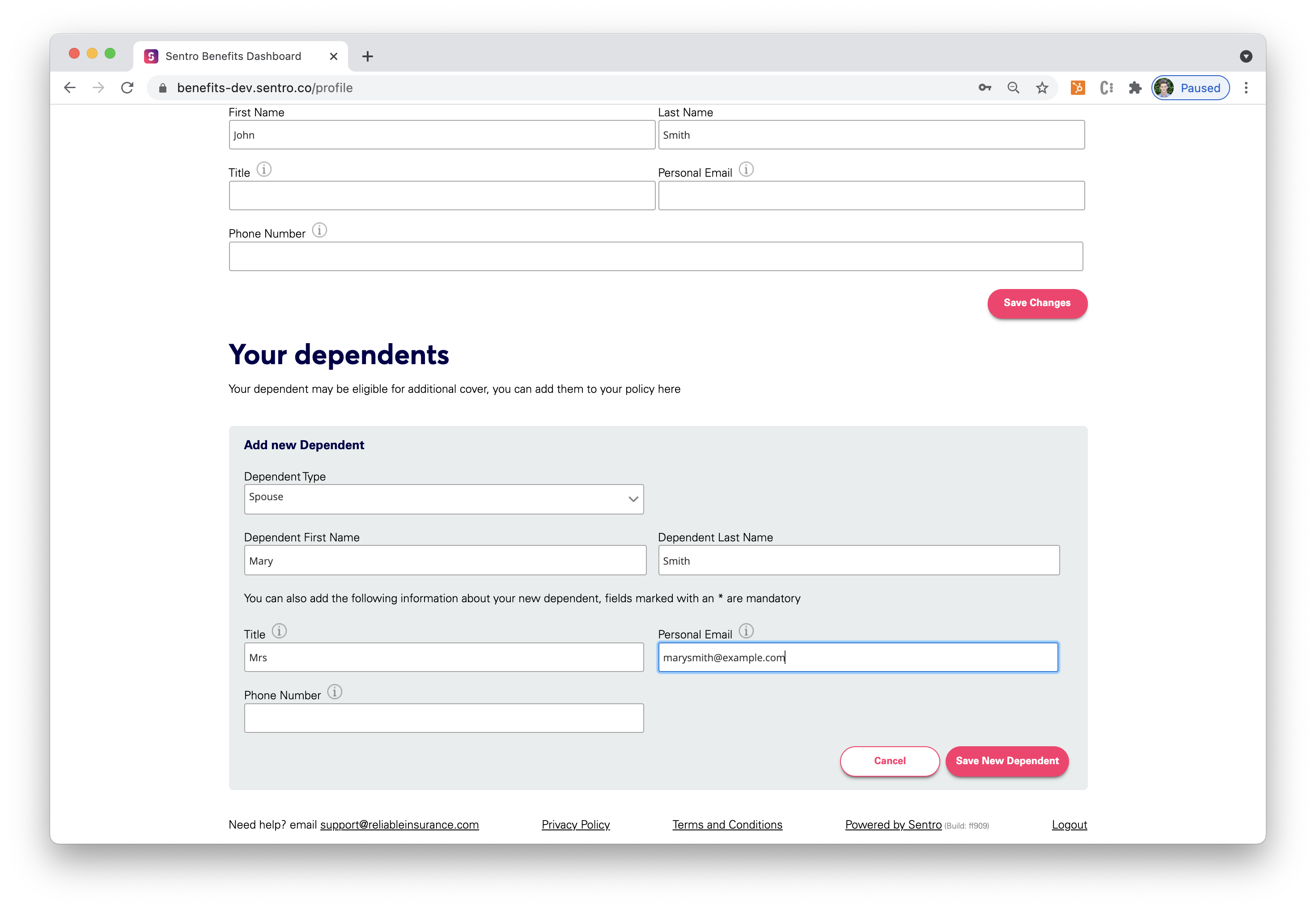 Easier product selection for family members in Sentro Engage
Sentro Hub lets insurers create group plans with different options for spouses and dependents. Sentro Engage plan member portals now let plan members select these product options for their family. Everything is processed fully digitally.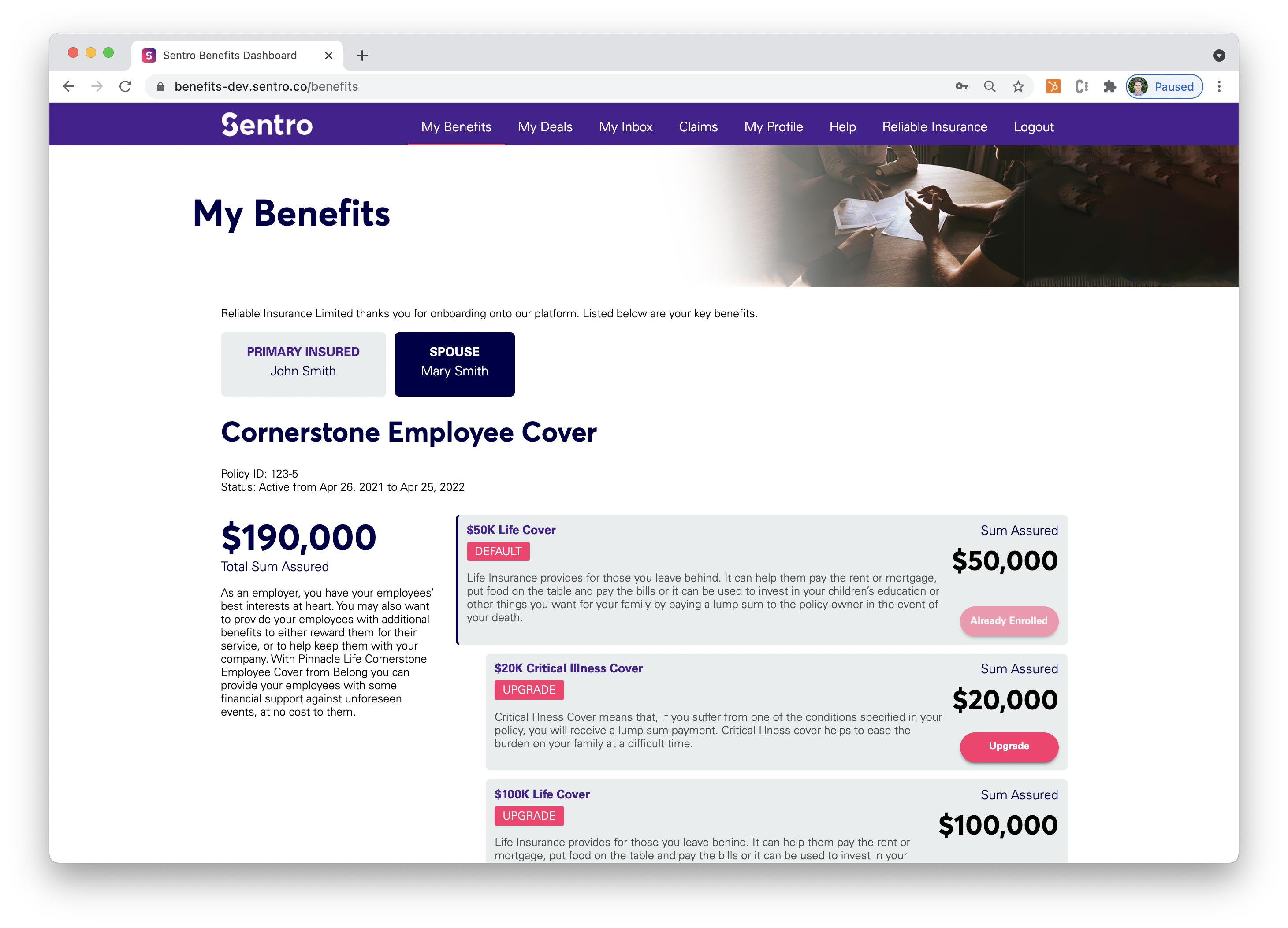 Billing is a breeze
One of the most powerful features of Sentro is the ability to easily create, bill and manage complex group plans.
Let's say you want to create a base life plan, with dental options. For the employee, the dental option is partly subsidized by the employer. For the spouse, the dental option is a voluntary payment. For dependent children, the benefit levels are different, and the premium is also a voluntary payment.
This scenario is easily constructed in Sentro Hub Product Management. Plan members can select their own options in Sentro Engage. Sentro Hub Billing manages the employer and plan member billing splits, pro-rated down to the minute.
Not ready for member self serve yet?
We know that not all insurers are ready to let their customers and plan members do their own data maintenance. All of the dependent maintenance and product capability in Sentro Engage is also available to your administrative staff in Sentro Hub. You can still offer your group customers choice and variety in your family plans, confident that we're making it easier and more efficient for your administrative staff to manage.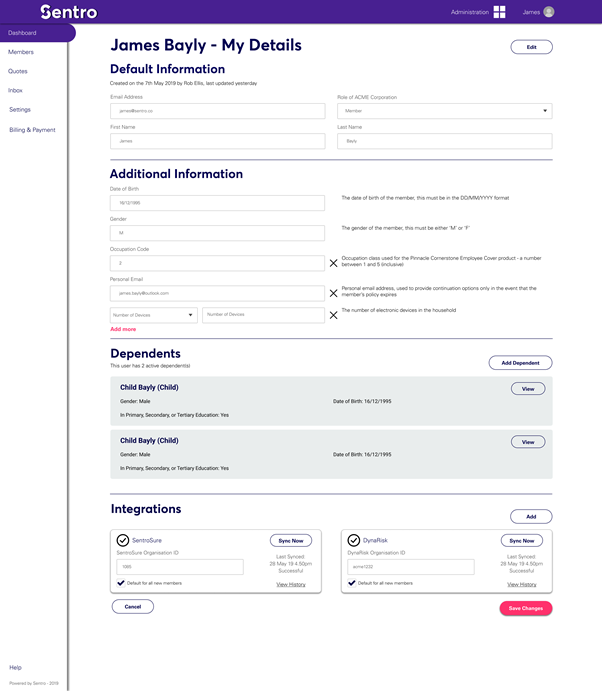 These features are available now to Sentro customers - contact us if you'd like to learn more.