Sentro is now Microsoft IP Co-Sell ready! Sentro and the global Microsoft insurtech sales team can directly collaborate to offer Sentro to Microsoft customers.
"Sentro is a great cloud-native policy admin solution, and ideal for mid-market group insurers" says Rob Ellis, Sentro CEO. "Insurers usually use a range of Microsoft products and services, so they already have relationships with Microsoft sales representatives. Now these Microsoft sales reps can directly collaborate to offer Sentro as a group policy administration and customer servicing solution for their insurance customers. Sentro and Microsoft solve the common challenges faced by group insurers worldwide. We are delighted that we can now collaborate directly with Microsoft to show insurers how they can transform their group business with Sentro and Microsoft."
"Sentro and Microsoft solve the common challenges faced by group insurers worldwide" - Rob Ellis, Sentro
Microsoft have a worldwide team of insurtech specialists, who assist insurers worldwide with modernizing their technology and moving to scalable, secure Microsoft Azure cloud computing.
Global opportunities, common challenges
Group insurers worldwide are facing common challenges, says Sentro co-founder Hans Frauenlob. "Almost every group insurer we meet has challenges around things like renewal processing, offering online experiences to insured members, quoting and onboarding new group customers, and easily making small tweaks to their core group offering to suit different customers."
"Mid-market insurers really see the benefits in working with Microsoft and Sentro to deal with these challenges. It lets them differentiate against the major multinational insurers. Mid-market insurers usually have smaller in-house IT and operations teams, and they don't want to write and maintain software applications themselves. They would much rather work with solution partners like Sentro and Microsoft on the application and infrastructure side, while they focus on data, analytics, and engaging with their customers and partners."
Microsoft Azure - global scale and security
Sentro is cloud-native on Microsoft Azure. The global Azure platform gives Sentro customers the benefits of global reach, scalability and security. Sentro can be deployed single-tenant or multi-tenant, and can be deployed anywhere in Azure's worldwide network of datacenters. This allows compliance with virtually any local regulations regarding data sovereignty.
Microsoft customers may already be managing their own secure Azure instance for their own computing needs. Sentro can also be deployed into these customer-managed instances.
The Azure platform also provides superior integration options with the broader suite of Microsoft applications like Office 365, Power Platform, Business Central and Teams.
Sentro - functionality for today, architected for tomorrow
Sentro Hub, Connect and Engage gives group insurers immediate functionality to streamline their group insurance operations. With Sentro Hub, insurers can configure their group products and plans, apply rate cards to drive billing, and easily onboard new customers with sophisticated census file processing. They can customize their invoices, insurance policy language, products and plans, and user experiences with easy-to-configure templates. Sentro Engage employee portals can be white labelled and themed for different customer groups and partners. Sentro Connect allows value-added services to be included alongside the group insurance product, and supports sales and distribution partners.
Sentro's technical architecture is the most modern in our segment. Built cloud-native, Sentro has API endpoints around every bit of Sentro functionality. Our data models are all customer-definable and extensible. Sentro supports SSO with OAuth2. Customers can use business analytics tools like PowerBI to analyse their group business on Sentro.
The result? Fast time to value, more efficiency, low cost of change, better customer experiences. Sentro customers report that renewal processing is 5 times faster than their previous methods.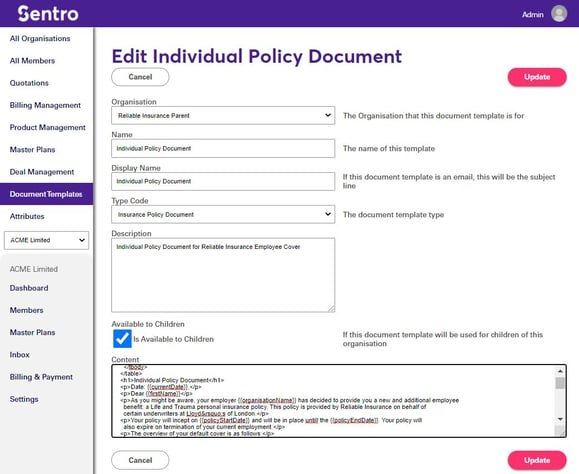 Sentro and Microsoft - a powerful platform for group insurers
When insurers choose Sentro and Microsoft to power their group business, they get concrete business advantages:
World-class Microsoft Azure cloud computing infrastructure
Fastest time-to-value and lowest cost-of-change with the Sentro group policy administration platform
Higher administrative productivity and superior customer experience with the fully-digital end-to-end Sentro platform
Easy integration with other Microsoft products like PowerBI for business intelligence, reporting and analytics, and Power Platform for workflow management
Future-proof technical architecture
Partnership-based support and assistance from Sentro and Microsoft