Almost every group insurer or benefits provider we meet has some 'very large groups' - groups with thousands or tens of thousands of plan members.
These large groups bring unique benefits and challenges for the insurer.
The most obvious benefit is that these are really important customers. They have a lot of insured plan members, and they generate a lot of premium. Having large customers is a mark of prestige in a competitive marketplace. Being able to support large customers also builds credibility with distribution partners.
The challenges usually relate to managing the volume of activity. Large schemes have a lot of people joining and leaving during a plan period. Large schemes usually also have other processing wrinkles, like multiple operating locations, unique invoicing requirements, and product tweaks unique to them as a customer. Insurers usually need to deal with member information provided in a way that suits the customer's HR systems and processes, rather than the insurer's processing needs.
We are pleased to announce the general availability of new Sentro features that let insurers and benefit providers support large groups more effectively than ever.
Background Task Processing
Processing-intensive tasks like bulk membership updates and group plan activation are now processed as 'background tasks' in Sentro. Administrators can monitor the progress of these large jobs with our new Activity tab.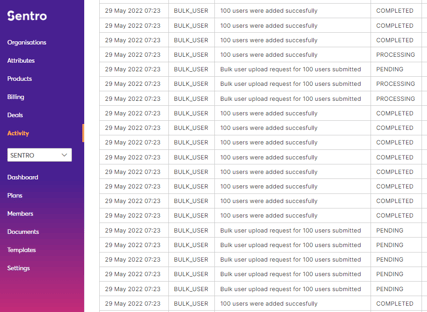 Any processing exceptions are notified to the operator to allow corrective actions to be taken.
Background processing allows operators to work on other things while large jobs are being processed. This improves the overall productivity of the operations team.
Pending Plan state
New and renewed plans in Sentro are created in a Pending state. All associated documentation for the plan is available for review at this stage. For very large groups, this is a very valuable opportunity to review the plan in detail before it is put in-force. Is everybody on that should be? Has the updated policy language been applied? Documents can be reviewed with the distribution partner and the customer, and any final adjustments can be made before thousands of plan members receive their insurance documents.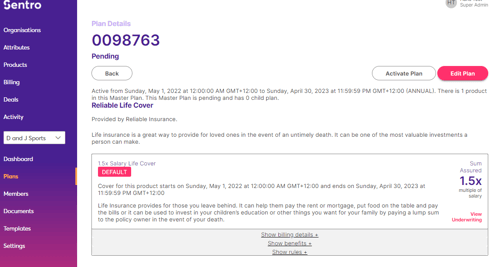 Census upload improvements
We're introducing new capabilities to our bulk member upload feature. These include:
Background processing for large groups

Ability to process ons, updates and offs from a single file

Improved operator feedback on rows that are not processed
At Sentro, we believe that it should be easy for every employer to look after their people. That philosophy applies to employers of any size - a 5 person retailer, or a 25,000 FTE manufacturer. With Sentro, group insurers can offer customers of any size an ideal product and service experience.