At the Future of Insurance USA event this week, Brent Korte of Ameritas gave a great presentation about using data and customer insights to understand the preferences of different customer segments. With this understanding, Ameritas intend to tailor not only the user experience online for each segment, but also the business processes that support that persona's customer journey.
Insurers increasingly understand that their customer segments have different needs and preferences. They are using data and insights to try different user experiences and business process for these segments.
That works pretty well for products bought by individuals. The customer journey for a newly married couple in their late 20s wondering about life insurance should be quite different than one aimed at someone in their 60s looking at retirement products.
Businesses have personas too!
At Sentro, we think the customer journey and process experience should be different for group insurance customers as well. But instead of age and lifestage of the customer, the insurer should be focusing on the size of the business customer, and the industry they operate in.
The smaller employer usually does not have a full-time HR person on staff. They want to look after their people, but the business owner doesn't have someone to offload the task to. They are looking for product simplicity and ease of administrative maintenance from their group insurer.
At the other end of the scale, the large employer has different wants and needs. They will usually have a battalion of HR people, and often work with specialist HR consultancies. They will want the group insurance product to fit within their own established employee experience processes. They will expect the group insurer to offer their people brandable user experiences and responsive, online service.
Industry sector has a lot to do with customer behavior and needs as well. The needs of a tech company are quite different than the needs of a forestry company. Just as individuals appreciate it when insurers understand them and their needs, businesses also appreciate it when insurers understand the day to day work of their industry.
Insurers should tailor their products, user experiences, and service processes to reflect the different needs of their business customers. Like Ameritas, they should aim to try different customer experiences, and adjust them as they learn more about what each segment likes.
Offering tailored experiences with Sentro
Sentro makes it easy for group insurers to offer different products, processes, and user experiences for different customer segments.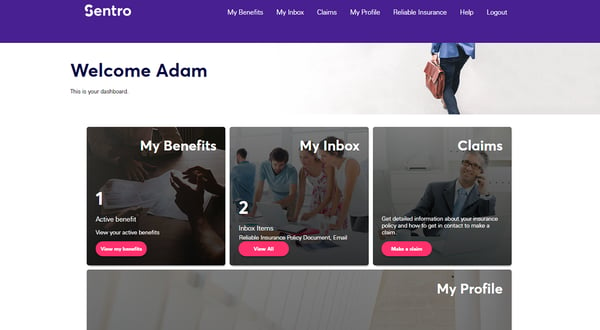 Our Sentro Engage employee portals offer Theming as a standard feature. Themes control what the user experience looks like, and what business functionality is available to the insured. Themes can be specific to each customer, be applied to a range of customers, or be a default that every customer gets. Themes are easily configurable, which means that customers can try different user experiences with different customers. New themes can easily be created.
Sentro Hub lets the insurer create micro-targeted group products and plans. Like Engage, these products and plans can be customer-specific, applied to a range of customers, or be a default across a wide customer segment. Hub lets the insurer offer products and plans with different billing frequencies, voluntary contributions, top-up options, and include non-insurance benefits.
At Sentro, we believe that the employers and their people should have the same kind of designed customer experience as individuals receive. Sentro gives insurers the platform to deliver that kind of tailored service - on a unified, configurable, cloud-native platform.